Ah, me with Strictly Come Dancing Judge Bruno Tonioli . . . . .
I remember this day back in December 2010.  Well of course I remember it; I'm stood there, in the corridors of BBC Broadcasting House with Strictly Come Dancing and Dancing With The Stars Judge Bruno Tonioli, having just watched the live final where Kara Tointon and Artem Chigvintsev lifted the glitter ball trophy as worthy winners.  As Brucie says, they really were my favourites that year.
I also remember it as the day my dad died.
The day before had ended with me falling asleep whilst having a mental conversation with my dad because I was in London and he was in Barbados.  The next day began with a really weird dream where I woke up with a start, heart racing, and a rush to put the light on to check the bed next to me and peer with some trepidation around the room because although I was home alone that night, I was convinced that my deceased grandmothers 6 foot Alsatian dog was in my room and lying in the bed beside me.
At the time, after my heart had stopped racing, I remember thinking, "How odd.  Why on earth would I dream about, feel, and smell Peter?"  (Peter was the name of the dog who both delighted and scared me as a child due to his size and playful nature).  When he stood on his hind legs, we was taller than my dad.  It has been well over 25 years, possibly even longer since he'd even entered my head so I was slightly puzzled by the whole thing.
The news that was to follow wiped all thoughts of Peter and my gran immediately out of my mind, at least temporarily.
For those that don't remember, 2010 was the year where the whole of the UK, including London and the South, was shut down by freak snowstorms.  All flights were grounded, airports were closed, most train services were cancelled, and non emergency workers were advised to keep off the roads.
"I thought she was calling to check my flight progress.  She wasn't.  She was calling to tell me my dad just died."
My mobile phone rang at about 7.30am on the morning of the Strictly Come Dancing final.  It was my sister who had flown out to Barbados a couple of days before, having been on the very last flight to leave London Heathrow before the airport was shut down for what turned out to be a week.  I thought she was phoning to see if I'd managed to book myself on a flight out yet, but she wasn't.  She was in fact calling to tell me that my dad had died during the night.
I guess it's a moment that most people will get to experience if they live long enough, and you know on some level it will come one day (unless your parents starred in Fame, in which case they will live forever – You have to be a certain age to get that one!) but much as you know it might come someday in your lifetime, it is still a shock.  A blow to the system.  You kind of think you've misheard them.  You almost go to say ''what?"  Thinking that somehow they'll go, oh my mistake, just calling to see how you are and see what you want for dinner.
In the hours before my sister called I had done the daily early morning ritual of ringing the airport and my airline to see whether any flights were going to be allowed to leave the UK that day.  On this day the news was more hopeful.  My weary travel rep, whom I'd many 4am calls with every day that week, informed me that there was a possibility flights might go the day after tomorrow.
Now, with the news from my sister, any day was going to be too late.
Because we had several feet of snow outside there was an eerie silence that morning.  No cars on the roads, very few people, just a stark white canvass.
I think I was slightly spaced out for the next few hours because suddenly it had jumped from 7.30am to 2pm.  The friends that I'd arranged to meet at the BBC that evening started texting, full of excitement about the night ahead, and asking for a snow update seeing as how I was the furthest out of London.
"The uncomfortable conversation with myself"
I cheerfully replied, whilst at the same time wondering if I should just tell them the news and bow out.  I then had to take a moment and have what was a very uncomfortable conversation with myself:
"So Marilyn, you are in the UK.  Unless you suddenly sprout wings, or realise that Superman wasn't just a comic book story and that man really can fly, you have no prospect of getting out to Barbados today.
You therefore have a couple of options.  You can sit here and cry all day.  (Which I have to admit was rather appealing at the time), or you can get up and get on with your life and turn this day around it make it something special."
"I'd make it a celebration of life day instead"
My dad was always a bit Bruce Forsyth fan.  We used to sit around when I was younger watching The Generation Game and The Price Is Right, and we'd do the 'nice to see ya to see ya, nice!!!'  So on that very difficult afternoon I came to the conclusion that instead of sitting around crying all day, I'd go out and celebrate my dad's life instead.
That night, by some twist of fate and despite my train being delayed by over an hour due to the snow I managed to get front row seats for the Strictly final.  I was sitting just feet away from the place where the dancers all stood to watch the other contestants perform, and where final preparations were being made for the props and sets, and the next dancers to hit the ballroom dance floor.  It was a fabulous evening, and my favourite couple won, yay!!!!!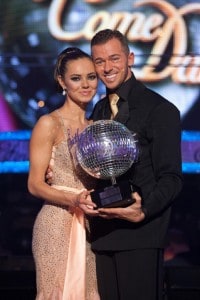 "I made a decision to keep the death to myself rather than ruin the evening for my friends."
I also made the decision not to tell my friends what had happened until they were safely on their respective trains and at least halfway home because I knew that the news would taint the night for everyone.  Because we had all been looking forward to it for such a long time I wanted them to have a full experience of having had an amazing night out, and the opportunity to embody and enjoy every last second of it.
The dancing was electric!  It's one thing to watch it on the TV.  It's a whole other experience to be sitting with your feet practically on the dance floor!
"I renew my decision to live life to the full."
So, as the day of the Strictly Come Dancing final comes round yet again, I renew my decision to live life to the full because you never really know when your number might be up (RIP cousin Xavier Brandon Harris who was killed last week, just 20 years young in a hit and run accident.  RIP Paul Walker of The Fast & Furious fame who was killed the week before at just 40 years of age).  I also renew my decision not to be overcome by regrets.
"You can't change the past, merely your perception of it."
The burden that one can carry having been the only daughter not to have seen my dad before he died is potentially a heavy one, so I remind myself often that it benefits no one.
What happened, even with my fabulous Time Line Therapy™ skills and ability to take myself and my clients back into the past to release the emotional baggage, the event itself can't be changed or rewound and played out again.  The thing I can change is my perception of it and reaction to it.  I guess in many respects I am very lucky that I have the ability to go back and release all of the old negative emotions, without those skills and resources I might be living a very different life today.
My invitation to you . . . . . . 
So readers, whoever you are and wherever you might be, I invite you to celebrate the lives of those that have passed.
I invite you to fill your life with beautiful experiences that bring a smile to your face and put a song in your heart.
I invite you to see life as the precious and fleeting gift that it is, and, if any of you have an inside track at the BBC, I invite you to get me regular tickets to future Strictly Come Dancing finals as it would be a fabulous way to pay a regular tribute to my dad, lol! 🙂   Sorry, had to get that one in there, and really, if you do know someone on the Strictly team, call me!
Wishing you all a fabulous day, week, month, year, and life ahead.
Marilyn Devonish
PS: I also invite you to share this blog post if you like it or know someone that might benefit from reading it.
ABOUT MARILYN DEVONISH
Marilyn Devonish is an observer and commentator on life.  A Life and Executive Coach, TranceFormational® Therapist, and Keynote Speaker.  She is also the Founder of TranceFormations, a Training, Therapy, and Coaching organisation that is committed to helping people to release the old emotional baggage that weighs them down and stops them fully living in the present.  For further details about Events, Workshops and Coaching Services visit: www.tranceformationsTM.com
For regular inspirational and transformational soundbites and updates you can also follow Marilyn on facebook and twitter.  Just /marilyndevonish
Share